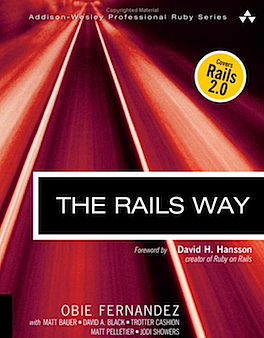 I never picked up my novel.
The Rails Way
is well-written enough to have kept me reading it through the whole vacation. I read about 500 pages and if our vacation had been any less busy I would have finished it.
The text is easy to follow no matter how complex the topic, with the exception of a passage relating to meta-programming. I will have to go back and see if I do better a second time around.
I found a few typos and errors but none that obscured my understanding of the author's true intent.
The testing section had some good coverage of Rail's built-in facilities and also of
RSpec
. I have been reading about
Shoulda
recently
also and I plan to compare the two more closely.
Agile Web Development with Rails
has been considered the leading book on Rails. For a newcomer to the topic it is still a better book but, for anyone with some knowledge of the framework, this is a much better organized volume.
Sam Ruby
is updating it for Rails 2 but it will only be a beta book for most of this year.